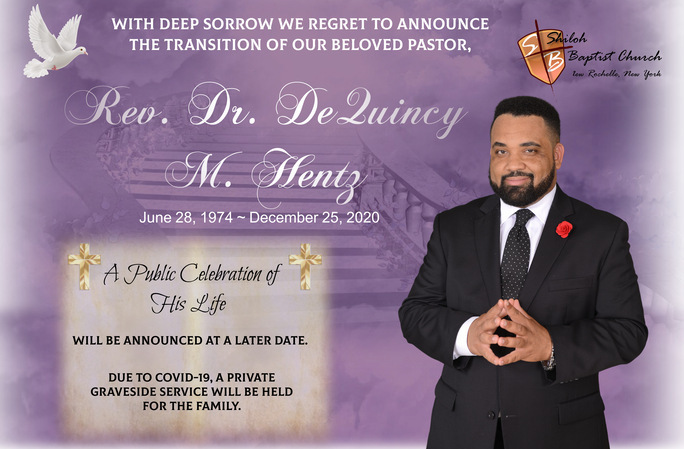 Dr. DeQuincy M. Hentz
Pastor DeQuincy M. Hentz is the fifth Pastor in the 120th year history of the Shiloh Baptist Church of New Rochelle, New York. He was called to the pastorate of Shiloh in March 2005. Pastor Hentz is a native of Greenwood, South Carolina.
Pastor Hentz is a 1996 Cum Laude graduate of Morehouse College, where he received a Bachelor of Arts Degree in Religion and History. In 1999, he received his Master of Divinity Degree from the Howard University School of Divinity. As a student at Howard, Pastor Hentz received the first Evans E. Crawford Preaching Award, which is given to the student who best displays the attributes of scholarly preaching. Upon his graduation, he was awarded the W.O. Carrington Preaching Award, which recognized him as the top preaching student of his graduating class.
Since Pastor Hentz's arrival at Shiloh in July 2005, church attendance has more than tripled and over 800 new disciples have been added to the Shiloh family. Ministries within the church and outreach to the community have expanded. Under his dynamic leadership, the church's vision of a 40 unit Senior Housing complex has become real, and the facility was completed and residents moved in January 2013.
Pastor Hentz is an activist and leader on both a local and national scale. He was a leader of the "Enough is Enough" Campaign for Corporate Responsibility in Entertainment, a 15-month protest in New York City and Washington, D.C. that served to expose the problem of adult-themed content being marketed to children and youth. From 2004 to 2008, he served as a Co-Convener for Progressive National Baptist Convention's Minister's Seminar. Currently, he serves on the Executive Boards of the Interreligious Council of New Rochelle (Executive Vice President), the Christian Action Ministry, the New Rochelle Branch of the NAACP (Housing Committee Chair), and the New Rochelle Community Action Program.
Pastor Hentz is a gifted man of God who writes, raps, poeticizes, preaches and teaches. He is frequently called upon to speak or preach for varying audiences of all ages across the nation near and far. He has received numerous awards, accolades, and citations. Of special recognition, Pastor Hentz was inducted into the Martin Luther King Jr. Board of Preachers at Morehouse College in 2001, and was recently included as a contributor to a book honoring the golden (50th) anniversary of the Progressive National Baptist Convention, The Best of PNBC: The First 50 Years, Volume Three. Pastor Hentz is a proud member of the Omega Psi Phi Fraternity Incorporated, Beta Alpha Alpha Chapter of White Plains, NY. In January 2018 Pastor Hentz defended and received the Doctor of Arts in Marriage and Family Studies from Eastern University, Philadelphia, PA. This man of God clearly has distinguished himself among the most gifted, yet continues to remain humble to his calling and ministry.